GUARANTEE AND QUALITY CHOOSE OUR PRODUCTS FOR A COMPLETE AND FAST SERVICE
We believe ISO guiding principles are the quality key to involve the customers in the whole manufacturing process and make them feel the starting point of it: from raw materials purchasing to final testing everything can be professionally customized.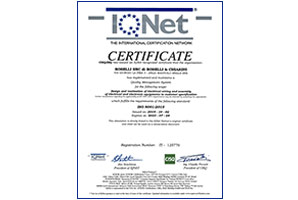 UNI EN ISO 9001:2015 QUALITY SYSTEM CERTIFICATE
Our expertise and competence in this sector have enabled our company to get the UNI EN ISO 9001:2001 Quality System Certificate in July 2002, now UNI EN ISO 9001:2015. This certificate represents both a guarantee for all our customers and the means the company itself can use to continually monitor the compliance with and the efficiency of the whole production process.
Click on the image to download the PDF document.
[/lazy_load_box] [/span12]